Romance means different things to different people. For example a picnic on the beach is romantic to me but not to my husband. Any inklings of romance are dulled by his paranoia of sand drifting onto his food. There are a few things that mean romance to most of us – soft lighting, delicious food, and a little bit of pampering.
Pure Luxury has chosen 10 romantic restaurants in Sonoma County to celebrate Valentine's Day. Each establishment is known for its excellent cuisine and high quality of service. With Valentine's Day on a Monday this year, the entire weekend is free to choose from.
John Ash & Co.
John Ash & Co. located at Vintners Inn will be serving dinner throughout the Valentine's Day weekend; however, on Valentine's Day John Ash & Co. presents a special romantic menu. Appetizers include Hog Island Kumomoto Oysters served cold on the half shell, Dungeness Crab Cakes, Foie Gras, and more. The vast selection of entrees features Pan Seared Liberty Duck Breast, Seared Sesame Coated Ahi Tuna, Grilled Filet of Angus Beef, and many more delicious options. This special menu ends with three scrumptious dessert choices – Warm Valrhona Chocolate Cake, Lemongrass Fromage Blanc Cheesecake, and Chambord Cream Tart with Fresh Raspberries. Click here to view the entire menu.
Sante Restaurant
The Fairmont Sonoma Mission Inn's Sante Restaurant has received a Michelin Star, a AAA Four Diamond Award, and critical acclaim for ambiance, cuisine, and their wine list. Sante's elegantly decorated dinning room is warm and inviting. Sante's special Valentine's Day Tasting Menu invites guests to choose from decadent, delicious courses such as Winter Chestnut and Black Truffles Risotto, Butter Poached Maine Lobster, Marin Sun Farms Grass-Fed Filet Mignon, and more. This romantic menu ends with a Tasting of Chocolates. Increase the romance by opting for the wine pairing with your sensual cuisine. Click here to view the full Valentine's Day Tasting Menu.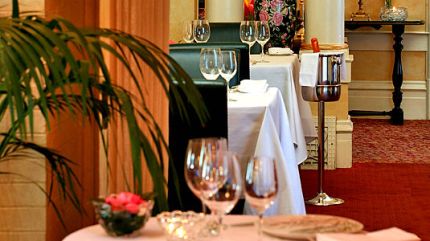 Madrona Manor Restaurant
Another Sonoma County restaurant that is the recipient of a Michelin Star is the restaurant at Madrona Manor. Fantastic service combined with amazing presentation of local cuisine has earned many accolades including those from San Francisco Chronicle, Wine Spectator, and The Press Democrat.
The Girl & the Fig
The Girl & the Fig is a favorite among locals and visitors to Sonoma County. The warm and cozy atmosphere creates a relaxed, playful, intimacy.
Carneros Bistro & Wine Bar
Carneros Bistro & Wine Bar is located at The Lodge at Sonoma Resort & Spa. Carneros Bistro uses fresh, seasonal Sonoma County ingredients to create cuisine that pairs perfectly with the wine list. Carneros Bistro was included in San Francisco Magazine's list of Top 50 Restaurants in the Bay Area.
Farmhouse Inn Restaurant
The restaurant at the Farmhouse Inn offers tables by the fireplace and tables by windows with a view of the garden terrace. Maintaining an atmosphere of elegance and warmth, while creating a relaxing and casual environment is a magic trick that this Michelin Star recipient has mastered.
Depot Hotel Restaurant
The exceptionally charming Depot Hotel Restaurant is another favorite with locals and visitors to Sonoma County. Depot will be open for lunch and dinner during the Valentine's Day weekend and will be serving a separate menu for Monday, Valentine's Day. The Valentine's Day four course menu invites guest to choose from entrees including a Grilled Filet of Beef served with Lobster Tail Medallions and Potato Gratin in a Bordelaise Sauce, Roasted Wild Salmon, Wild Gulf Prawn Risotto, and more. The list of tempting desserts consists of Tiramisu, Bittersweet Chocolate Decadence, and others. View the full menu here.
Central Market
At Central Market their motto is "Slow Food, Good Served." Enjoy a leisurely paced dinner at one of Sonoma County's best examples of using sustainable local ingredients to create masterful cuisine. Romance is all about taking your time. Take advantage of this fine dining experience in a casual atmosphere under warm lighting while enjoying a bottle of wine. Central Market recently received a "Recommended" rating from Michelin Guide San Francisco Bay Area and Wine Country 2011.
Cyrus Restaurant
Cyrus Restaurant is an amazing dining experience. Exceptional cuisine and exceptional service underneath vaulted ceilings blanketed in warm lighting. Cyrus seduces in elegant and warm surroundings to relax in and savor your Sonoma County culinary adventure.
The Duck Club Restaurant
Located at the Bodega Bay Lodge & Spa, the award-winning Duck Club Restaurant offers an intimate setting with tables by the stone fireplace and by windows with a beautiful view of the sunset over the ocean.
No matter which romantic Sonoma County restaurant you choose for Valentine's Day, remember to contact Pure Luxury for private chauffeured transportation. This should be a special night for both of you to enjoy without worrying about negotiating through traffic or parking. Leave it to us to provide you with safe, reliable transportation while you enjoy this special evening with your valentine.