"People who love to eat are always the best people." – Julia Child
Scientists have discovered that just thinking about a favorite food triggers the release of dopamine, a feel-good hormone. It's no wonder that when planning a visit to Sonoma or Napa Wine Country, where to eat is just as important as what to drink.
Fortunately, both Northern California Wine Country destinations offer many delicious options for sumptuous dining, including select restaurants that have received at least one Michelin Star for their excellence.
MICHELIN STAR RECIPIENT RESTAURANTS IN NAPA VALLEY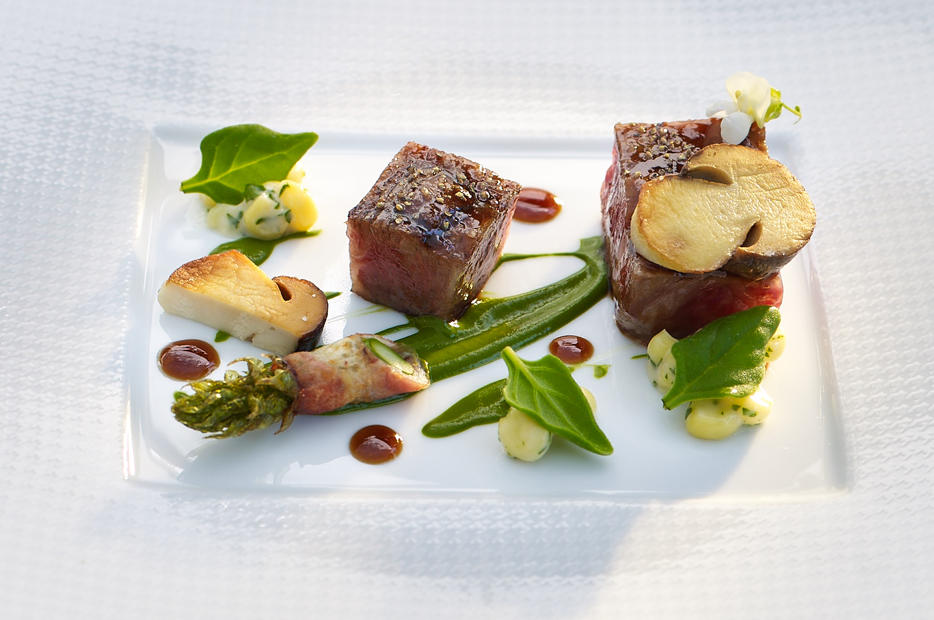 Napa Valley is home to seven restaurants with Michelin Stars. Topping the list is French Laundry. Chef Thomas Keller's renowned, fine French restaurant has earned the highest rating of three Michelin Stars for the sixth year in a row.
The Restaurant at Meadowood is another illustrious recipient of three Michelin Stars. Chef Christopher Kostow leads the talented team of this modern American restaurant, and his debut cookbook, A New Napa Cuisine, was awarded Cookbook of the Year 2015 by The International Association of Culinary Professionals.
Four distinguished Napa Valley restaurants each posses an awarded of one Michelin Star. Along with their prestigious Michelin Star-rated cuisine, The Restaurant at Auberge du Soleil is also home an extensive, award-winning wine list. Executive Chef, Robert Curry, creates Napa Valley cuisine with Mediterranean flavors using seasonal ingredients. The Restaurant terrace seating offers a panoramic view of neighboring vineyards.
Another Thomas Keller restaurant, Bouchon Bistro, has earned a Michelin Star – and many other awards and accolades – for their authentic French Bistro fare. Their seasonal menu and raw bar selections are apt to change, but other favorites are offered throughout the year.
Chef Ken Frank's, La Toque, relies on a network of local farmers and food purveyors to create beautifully presented and absolutely delicious courses. La Toque also offers wine pairings for the ultimate wine and food experience.
For creatively inspired changes to California soul food, Executive Chef Brandon Sharp has created a menu at Solbar at Solage Calistoga that ranges from guilt-free dishes to absolutely decadent.
Finally, at Napa Valley's Terra Restaurant, Chef Hiro Sone's inventive menu brings together the flavors of Italy, France, and the Orient. An example of Chef Sone's original menu is a Risotto with Forest Mushrooms, Parmigiano, Reggiano, and Jidori Egg with Australian Winter Truffles.
MICHELIN STAR RECIPIENT RESTAURANTS IN SONOMA COUNTY
In Sonoma County, three restaurants have earned an elusive Michelin Star. At the first, Farmhouse Inn, Executive Chef Steve Litke serves California-French cuisine with ingredients sourced from a local Sonoma County ranch and artisan farmers.
Chef Jesse Mallgren sources the ingredients for the restaurant at Madrona Manor from the estate's vegetable gardens, orchards, and greenhouse. Stunning dishes are presented based on a classic French foundation sauces and stock punctuated by global influences.
Ending the list in Sonoma County is Terrapin Creek. Andrew Truong and Liya Lin construct excellent local and international cuisine, along with the ultimate in comfort food in beautiful Bodega Bay with views of the water.
"Life is uncertain. Eat dessert first." – Ernestine Ulmer
Remember to contact Pure Luxury for your private chauffeured transportation when visiting Napa Valley and Sonoma.
"Like" us on Facebook, follow us on Twitter, or subscribe to our blog for more traveling tips in Northern California Wine Country.