Purely Delicious
Starting at $183 per person
Based on a private group of 6 people in a SUV (includes chauffeur's base gratuity, wineries fees, and fuel surcharge); Scheduled time is 11 a.m. to 3 p.m. Fri – Sun, and 11:30 a.m. to 3:30 p.m. Mon – Thurs.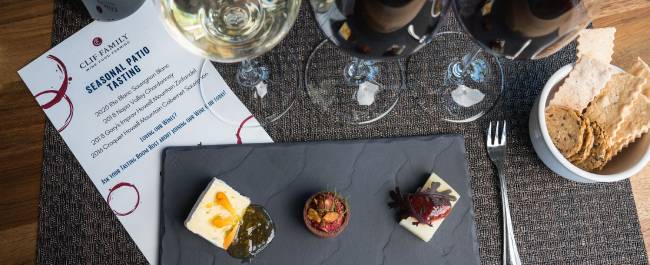 Clif Family
Seasonal Wine Tasting
Relax at Clif Family with a flight of our favorite small production seasonally released wines paired with culinary bites highlighting our CCOF organic farm and Clif Family artisan foods. Swirl, sip and savor the day!
Freemark Abbey
Appellation Tasting
Six Napa Valley wines are poured in three side-by-side comparisons. Each of the wines has a story to tell about where in Napa Valley it came from, how it came to be a Freemark Abbey bottling, and what aromatic and flavor attributes it might display in the glass. The Appellation Tasting is equal parts colorful narrative and in-depth analysis, all under one spectacular roof.